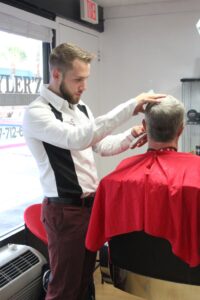 Master Barber, founder, and shop owner. Tyler has passionately honed his technique in order to keep your crown perfectly polished. He has focused his talents on bringing joy to his clients through excellent service.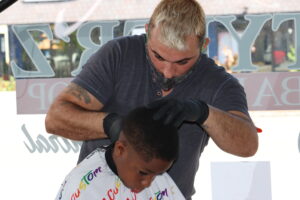 In addition to the typical men's haircut found at the usual barbershop, Mike "De Barber" has also developed a talent for coloring and cutting women's hair. He loves to learn new techniques and applies out-of-the-box thinking to his clients who are looking for something fresh and unique.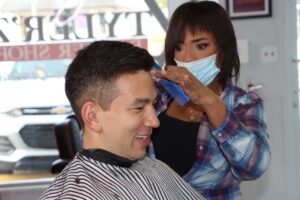 Drawing from decades of industry experience in Florida, Colorado, and Nevada, Yvette specializes in beard sculpting, shaves, makeovers, fades, and designs. This spicy lady will not only make you look incredible, but has a genuine personality to match.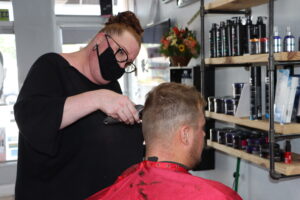 Never a dry moment with this one! Miranda fills the holes where barbering just won't do. With a wit to make you blush, she puts her all into her cosmetology services. From waxing to a full scissor cut, you'll want to sit in her chair for pampering and great conversation each and every time.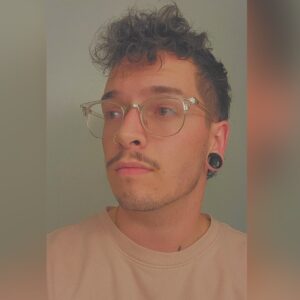 Spencer is a Master Barber who's skill is only matched by the sharpness of his blades. He's been making moves in the industry for almost 3 years and is proficient in clipper and scissor cuts, straight razor shaves, fades, and everything in between. Once someone sits in his chair, they'll never leave again. If you bring him your husbands, sons, nephews, cousins, or uncles, Spencer will cut them and that's a promise.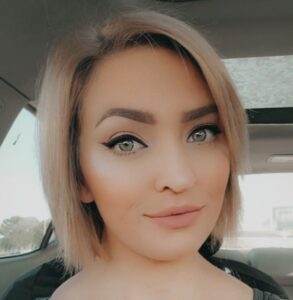 Bri is a licensed cosmetologist from Aveda who specializes in Men's Grooming and Grey Color Blending. Bri also has your nails and waxing needs covered! This sassy lady has been in the St. Pete area for 6 years. She recently became a new mom and will let you know all about it. Come on in, talk sports and beer while you get pampered by Bri!
BORN AND RAISED IN VIGRINIA, NICK HAS CALLED ST. PETE HOME FOR THE LAST 4 YEARS. DEVELOPING HIS LOVE FOR THE INDUSTRY THROUGH WATCHING FAMILY GROWING UP, HE GRADUATED FROM THE AMERICAN INSTITUTE OF BEAUTY WHERE HE FOCUSED ON FADING, SHEAR WORK, STRAIGHT RAZOR SHAVES AND BEARD TRIMS.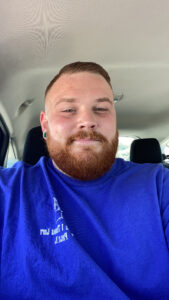 HAILING FROM ALABAMA, DJ HAS BEEN IN THE ST. PETE AREA SINCE 2018.  STUDYING AT THE AMERICAN INSTITUTE OF BEAUTY WHERE HE FOCUSED ON FADING, SHEAR WORK AND BEARD DETAILING. DJ LOVES TALKING SPORTS AND MUSIC.